Records management adapted to your business goals
Arvitam is a secure, unified platform that responds to a vast array of records management needs. For each record type, Arvitam implements an archiving strategy customized to fit the demands of your business.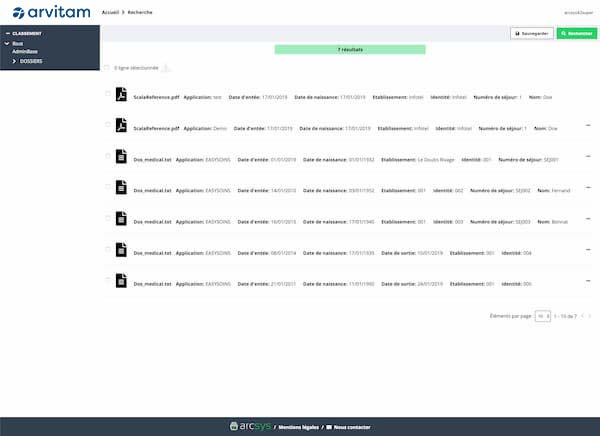 Finding a document is easy!
« Each type of document is distinct. Searching for an invoice, for example, is different to how you'd go about locating a technical report. Arvitam satisfies individual user needs by providing search tools adapted to their specific requirements. »
Mikaël Mechoulam, Arvitam Project Manager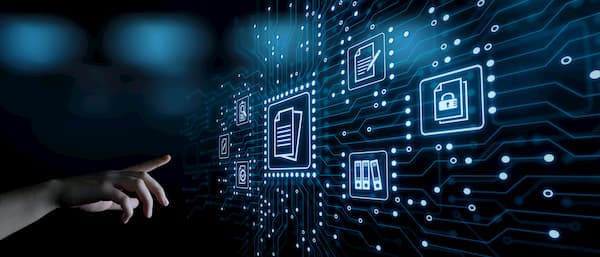 Manage your records efficiently
Your digital asset lifecycle is governed by a set of policies and procedures that vary from one document to the next: retention schedule, manager review, and approval transfer procedure…
Arvitam conforms to your retention policies and automates workflow for every record type.
Your choice of medium: finding a balance between performance and cost
Arvitam supports most storage technologies, from disk to magnetic tape to cloud. Automate migration from one media to another with ease and manage multiple copies across any number of sites.
Ensure your records are stored in complete security by keeping multiple copies and control your storage costs according to data usage.
Protect your digital assets
Arvitam creates logical separation between different record types and manages role-based user access. Records can be encrypted, ensuring absolute confidentiality, and each access is registered in the system logs.
Archive data to the format of your choosing
Arvitam archives all record types, without limit: documents, files, folders, relational tables, dataflow.
Arvitam also handles legacy formats such as AFP which can be processed to gather additional metadata and automatically be converted to PDF for end-users.
Archive directly from the most strategic systems
Archive directly from business and collaboration applications via a wide range of connectors: SAP, Filenet, Nuxeo, Documentum, Alfresco, Exchange, LotusNotes…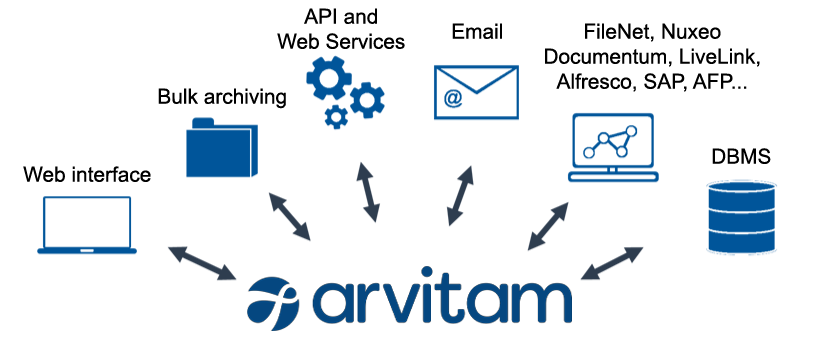 Long-term, sustainable archiving
Arvitam seamlessly adapts to shifts in technology, operates in multiple environments, is vendor-neutral – meaning there's no storage lock-in, – supports a broad range of storage formats, and enables you to migrate from one medium to another, with zero interference to users or applications.
Scalability
Arvitam is a modular platform that can run in cluster mode with multi-site architecture and expands to deliver high performance and uninterrupted availability as your business needs evolve.
Arvitam can run on-premise, in the cloud, or in a hybrid (both cloud and on-premise).
Extensible architecture
Designed to handle a very large amount of data, Arvitam automates all phases of digital archiving: records management monitoring, file capture, and control, media readability, backup, recovery, migration to other media, electronic signature, the evolution of cryptographic algorithms.
Archiving with evidentiary value for legally binding documents
Arvitam preserves the legal value of your archives. Throughout their entire lifecycle, Arvitam handles the classification, integrity and authenticity of your archives and demonstrates that archived documents are indeed originals. Evidentiary value is based on:
Protection of components that prove an archive's integrity, such as fingerprints, signatures, time stamps…
A reliable audit trail of events relating to an archive's lifecycle (transfer, retention, consultation, retrieval, migration), and to Arvitam system activity (alerts, internal processes…).
The option to generate a file of evidence per archive.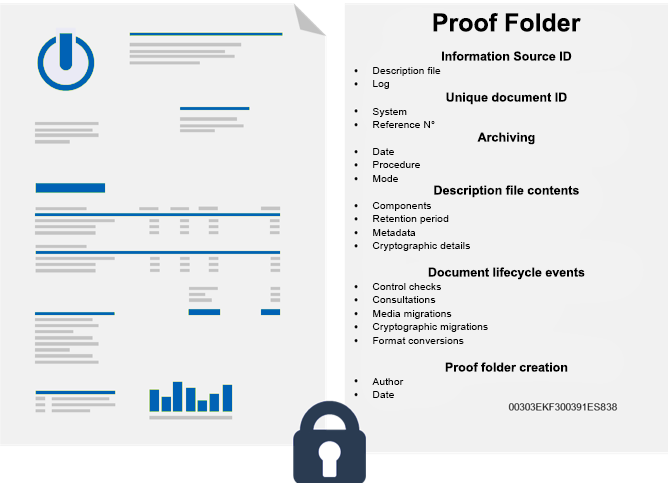 Proof Folder
The Proof Folder provides a document that lists a complete history of all actions performed on a record, from ingest and throughout the lifecycle of the archive. It demonstrates the authenticity and integrity of the record and proves full compliance with the chain of custody. This document can be generated on demand and produced for review by a judge or an auditor for litigation or auditing purposes.